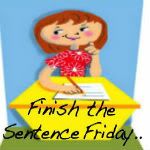 Today is my first entry in the "Finish the Sentence Friday" blog link up!!
It's a fun weekly event hosted by a bunch of great ladies, click on the button above to learn more about the hosts and how you can join in the fun!
This week's theme:
I used to love...
going to concerts! Man, it wasn't that long ago when I was going to a concert in the Tri-State (NY/NJ/CT) area... or was it? I haven't been to a rock concert since 2011 and I haven't frequented the concert circuit since 2009/2010 but I still used to have a blast at them and look back on those times pretty fondly! It all started, honestly, when I used to be the chaperone for my sister Sara who used to go to a lot of metal/hard core/punk concerts at a famous area concert hall called The Chance. I ended up going to a LOT of concerts in 2006/2007 because of her and then started browsing Ticketmaster regularly for bands that I liked or were similar to bands that I liked.
Once I started dating the Hubs in July 2007, we quickly discovered that we had similar tastes in music. It wasn't before long that we started going to a lot of concerts ourselves. The best concert I've ever been to was MuteMath at the (then called) The Filmore at Irving Plaza (NYC). They became my favorite band that night and they are an AMAZING live show - I have never seen anything like them. If you have never heard of them before, I highly recommend you check them out!!
(l to r) Mute Math playing songs from their self-titled debut album,
and the future Hubs and I posing before the show began.
If there was a great concert I couldn't get the Hubs to go with me, my mom was awesome enough to go with me!! She was a good sport - she's seen some pretty awesome bands with me and enjoyed them a lot. But I think the most fun we ever had at a concert was seeing Michael Buble' back in 2008 at the Times Union Center in Albany, NY. We were sitting in the 4th or 5th row (I can't remember now) but we were SO close. It was fantastic... what a show. He's quite the artist.
(l to r) Michael Buble' doing it up like a classic crooner,
and my mom and I taking "selfies" in between sets.
When the Hubs and I moved in together back in 2009, we still went to a couple concerts here and there because we were making good money. But then money got tighter when we got laid off and once we got new jobs, we were engaged and then married and then pregnant and now new parents :). I still have a strong desire to go to fun concerts, but I don't think I'll be able to really go to concerts regularly until Valentina is old enough to come with :)
(l to r) Mom and I at a Mae concert at Irving Plaza in March 2008, my friend Michele and I at Jones Beach in 2010 seeing 311 and the Offspring , and the Hubs and I waiting online for doors to open to see Saliva and Sevendust in April 2008.
Hey Sevendust fans! The band is giving away tickets to their shows for their current tour!
check it out on their Facebook page here!
Thanks for reading!
Sincerely,
Christina